Time to get reacquainted with CERATIZIT at MACH 22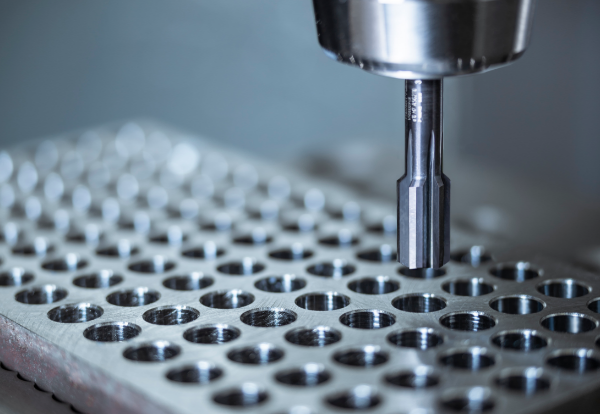 Product innovation, technical support and social interaction can all be found on stand 18-210 at MACH 2022
With four years having passed in what to some is a blink of the eye CERATIZIT UK & Ireland is eagerly anticipating the return of the MACH exhibition. CERATIZIT will take the opportunity to highlight four years of cutting tool toolholding and workholding innovation, along with its continuing enhancements to its market-leading customer support.
With one of the largest stands in the exhibition (stand 18-210) CERATIZIT UK & Ireland will be able to showcase a wide range of products developed to enhance the productivity and profitability of its customers. So, if you have a need to make improvements to your machining capabilities CERATIZIT provides a one-stop-shop for turning, milling, drilling, grooving and everything else from the machine table to the spindle.
CTCM120 and CTCM130 carbide grades ensure optimum turning performance with stainless steels
For turning stainless steel components – regardless of whether they be cast, forged or semi-finished parts – The already well-established CTPM125 carbide grade has been added to with two new cutting materials, the more wear-resistant CTCM120 and the tougher CTCM130, to provide a complete product range for turning stainless steels, both with the latest Dragonskin coating for high performance and process security.
The arrival of these two new carbide grades, which are recommended for turning austenitic, stainless steels, in particular the most frequently used stainless steels V2A (e.g. 1.4301) and V4A (1.4545), with the aim to provide the user with a wider selection of inserts to seamlessly cover every application – from roughing to fine machining.
The universal PVD-coated carbide grade CTPM125 is characterised by a well-balanced ratio between toughness and elevated-temperature hardness and promises to deliver high reliability when machining all stainless steels. CTCM120 is a CVD coated, highly wear-resistant carbide grade, which allows high cutting speeds with austenitic steels and boasts a smooth cut. It also impresses with its long tool life which in some cases was double that of the competition in benchmark tests. CTCM130 adds additional toughness, which CERATIZIT recommends for interrupted cuts. If cutting speeds need to be kept low and conditions are unstable, the attributes of CTCM130 help to increase process security.
The complete range for turning austenitic, stainless steels is characterised not just by the precise coordination of the three grades, but also by the free selection of different chip breakers. Depending on their application, customers can choose from three geometries for negative indexable inserts or two for positive inserts – across all three cutting material grades. As a result, CERATIZIT has seamlessly covered all application ranges for machining austenitic, stainless steels.
In brief, when turning stainless steel, the choices are: CTCM120 – Highly wear-resistant grade for high cutting values. The high cutting speed and longer service life increases productivity; CTCM120 – Highly wear-resistant grade for high cutting values. The high cutting speed and longer service life increases productivity; and CTCM130 – Tough grade for interrupted cuts and difficult conditions; for maximum process security and reduction of the reject rate.
Optimum bore production with Fullmax reamers
Reaming has been the go-to process for creating tight tolerance bores consistently and CERATIZIT has the perfect solution in its Fullmax range of solid carbide reamers. Thanks to their specialised high-performance coating and sophisticated unequal cutting edge pitch, Fullmax reamers deliver exceptional surface finish as well as significantly reduced deviations in circularity and cylinder shapes. The geometry also reduces the tendency for the tool to oscillate and form chatter marks. A recent addition to the Fullmax range is the short series with its shorter length offering numerous advantages: Improved stability and reduced vibration means that surface speed can be increased by up to 10 percent in the main application areas of steel and cast iron. Feedrates can also be increased by 10 to 20 percent, this combination delivers machining times up to 20 percent faster. In addition, there are better reaming results in terms of surface finish and dimensional accuracy. The tool itself also benefits from reduced friction performance, which is noticeable in the longer service life. The Fullmax solid carbide reamer short version can be used on all CNC milling and turning centres. However, its short dimensions make it particularly attractive for use on sliding head lathes.
Five-axis vice for demanding applications
The WNT X5G-Z from CERATIZIT provides an efficient, and highly precise, clamping system for machining centres that provides cutting tool access from five or even six sides. The X5G-Z also improves productivity thanks to its ease of use which significantly reduces the setup time.
Every aspect of machining has been addressed in the design of the WNT X5G-Z as can be seen in the lean, tapered contour of the two jaws, which provides optimum access to the workpiece. The jaws also contain elastomer elements to assist with vibration damping, thereby improving surface quality and increasing the service life of the tool and spindle.
The X5G-Z system's jaws and their adapter also have a distinctive feature in that they sit on a special dovetail guide that allows jaws to be changed in just a matter of seconds, with no screws or tools required. Additionally, the pull-down action of the jaws considerably minimises any lifting during machining. Versatility is provided by an extensive range of available jaws in widths of 40, 65, 80 and 125 mm each featuring the ability to be used inwards or outwards – a feature which opens up additional options, without extra cost.
The vice itself comes in five models and two heights, which differ in the length of their base bodies. The shortest measures 330 mm; while the other models are 430, 500, 630 and 800 mm long. The mechanical spindle which ensures the workpiece is clamped between the jaws has a basic clamping stroke of 140 mm as standard (without conversion). It can be easily extended for larger components up to a clamping range of 690 mm – provided the base body is sufficiently long. A quick change system means conversion takes just a few minutes and can be carried out (like the system jaw exchange) without tools. Another plus point comes in the form of the fully encapsulated spindle, which protects it from chips and makes it almost maintenance-free.
Hope HB130 Mountain bike charity draw
Over the years CERATIZIT UK & Ireland has built many partnerships, both with customers and charities. At MACH 2022 these will combine with a charity prize draw, with a HOPE HB130 carbon-framed 'Do it all' trail/mountain bike, valued at over £6000. Manufactured by Hope Technology in Barnoldswick making use of CERATIZIT Tooling in its production, the HB130 the ultimate all-rounder that is at home whatever the terrain. The winning entry will be drawn at MACH 2022 by World, Olympic and European cycling Champion Katie Archibald MBE. Katie is making a return to the Ceratizit-WNT Pro Cycling team in 2022 and whose recent success saw her riding another of Hope Technology's creations on the track, also produced using Ceratizit tooling.
Entry to the draw is by way of a £10 (minimum) donation, which can be made online at https://www.justgiving.com/teams/WNTEVENTS. All proceeds will be divided between CERATIZIT UK & Ireland's preferred charities of the British Heart Foundation and Cancer Research UK.