Tool vendor from Ceratizit encourages reading uptake at Mount Street Academy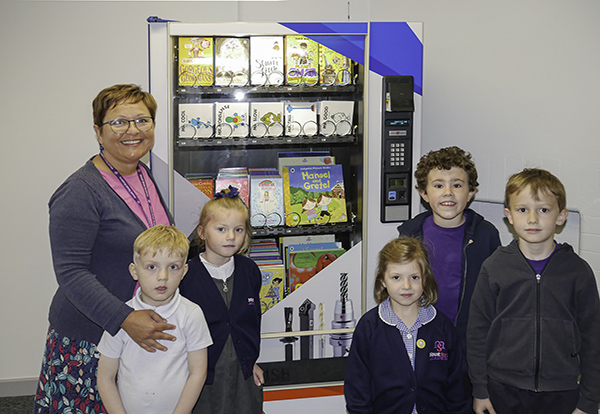 Reading is a vital skill that is stimulated throughout a child's time at school, but at Mount Street Academy in Lincoln, where all children are under the age of seven, they are also encouraged to see the joy in reading and the Academy has relaunched its Reading Rewards program that gives added incentive to read more, this is being aided by the donation of a vending machine from Ceratizit UK & Ireland.
"Our priority is to ensure that children can read by the time they move on to junior school. Reading is a complex process involving word recognition and language comprehension, so we can quickly get caught up in the mechanics of learning to read and forget the sheer joy of reading a story or having a story read to you," says Head Teacher, Rachael Horn. "So, one of our school priorities this year, as we celebrate the belated centenary of the school is to raise the profile of reading. Our reading rewards initiative means children earn rewards for reading a certain number of books; 50, 100, 150, 200, 250, 300, 350 and 400."
While a target of 400 books in three years may seem daunting, the children will change their reading book up to four times per week in class, as well as reading at home. At Mount Street Academy, over the course of Reception, Year 1 and Year 2 when a child reaches a certain reading milestone, they now earn rewards such as stickers, pencils, certificates, badges, books and book vouchers. Now, with the arrival of the TOM 60 vending machine from Ceratizit they have the added incentive of being able to choose, and vend, a book to keep as a reward, when they reach 200 books. "We wanted to add a novelty to choosing a new book to keep and we know that all children love a vending machine! They love the buttons and the mechanics of it!" The children can see the books inside the vendor and, as Mrs Horn reports, the number of fingerprints on the screen indicate a high level of interest in the contents.
With the Ceratizit TOM 60 vendors now being superseded in the world of cutting tools by the latest TOM 840 machines, the old machines would have ended up being sent for recycling. Seeing this, Ceratizit's Chris Horn, whose role is to support the company's vending activities, and just happens to be Rachael's husband, saw the opportunity to help and asked if one of them could be 'upcycled' to vend books instead of cutting tools. A quick modification of the vending spirals by Chris to handle larger books and the machine was ready to go, with between 250 and 300 books stored in it.
While not claiming exclusivity on this idea, other schools have done similar, Rachael is anticipating an increase in children's reading habits and as a result improved reading outcomes. "I am so grateful to Ceratizit for donating the machine and the children are thrilled and are working so hard to get to 200 books so that they can use it. In the meantime, we'll keep wiping off the fingerprints!" says Rachael.
Editor's note: Mount Street Academy is part of the Anthem Schools Trust which has responsibility for over 8,000 children and young people in 16 schools across the East Midlands, London and Thames Valley. It is a multi-academy trust with 11 primary schools and five secondary schools that aim to provide the best possible outcomes for the children and young people under its care. As part of the Trust, Mount Street Academy Mount Street Academy is an Infant and Nursery school delivering high quality early years education for pupils between the age of three and seven. Recognised as 'outstanding'' by OFSTED it is also a National Teaching School and a National Research School, working with many schools across the region to improve outcomes for pupils.