Velocity Composites enters US market with $100 million GKN agreement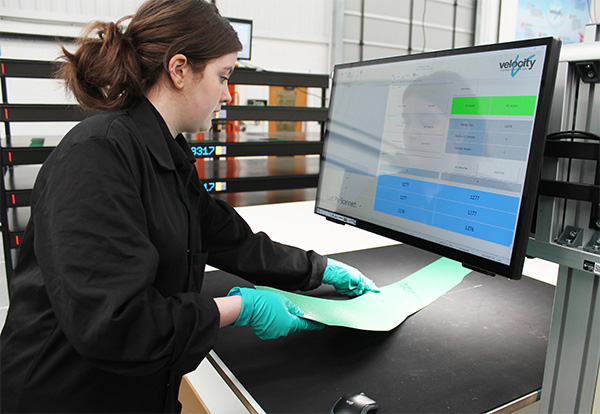 Leading aerospace composite material kits supplier Velocity Composites has announced its entry into the US market – the largest aerospace manufacturing market in the world – with the signing of an agreement with GKN Aerospace expected to be worth more than $100 million of revenue over five years.
To support the expansion into international markets, Velocity Composites also announces the development of its first site outside of the UK, a 40,000 sq ft advanced manufacturing facility near to the GKN site in Alabama.
The new facility will build and supply all the composite material kits for GKN's aerostructure, and has been upgraded to the required clean room standard, where it also includes Velocity's proprietary digital technology and latest manufacturing systems, covering a diverse range of high-performance composite structures across military, civil and business jet programmes.
Work on the facility is at an advanced stage, and it is expected that site approvals and first article tests will be completed by the end of February 2023, followed by volume production in Q1 2023, with all programmes transferred to Velocity under the Agreement by Q3 2023. Velocity plans to train and employ up to 30 local staff, supported initially by existing staff from the UK.
The collaboration with GKN – a global leader in the use of composite materials in engineered aerospace structures – uses Velocity's advanced VRP technology and supply chain services to support GKN's sustainability and efficiency objectives, assisting the aerospace industry's push to achieving significant environmental and sustainability improvements in this decade.
Andy Beaden, chairman of Velocity Composites, said: "This is a major milestone for Velocity as we make a permanent entry into the US market and expand our long-standing relationship with GKN. During the pandemic, we worked hard to deepen our relationships with clients and further invest in our technology to prepare for the recovery.
"We believe this agreement will be part of a long-term positive trend from which Velocity will benefit, as customers look to recover from the pandemic and achieve new and improved ways of working, with a key focus on sustainability, as production rates increase to pre-pandemic levels.
"We expect a step change in the use of carbon fibre in aircraft structures to improve fuel efficiency and deliver greater sustainability in the move to net zero. We believe this will increase the adoption of Velocity's technology and services to improve manufacturing efficiencies and inventory supply lead times.
The agreement builds on Velocity's long-standing relationship with GKN Aerospace which started in 2015 and includes existing contracts at three of GKN Aerospace's UK sites, including Bristol, Luton, and the Isle of Wight. This is the first time that Velocity has worked with GKN outside the UK.
Minister for Investment Lord Johnson said; "British expertise is central to levelling up sectors vital to global commerce and security, like advanced manufacturing.
"Today's agreement is another demonstration of the flourishing composite industry across our innovative Northern Powerhouse, which provides economic growth and delivers innovation overseas.
"This government will continue to encourage British companies from all sectors to seize opportunities that lie across the pond, as part of the historic UK-US trading relationship."