Velocity Composites gets £1.5m investment boost from Seneca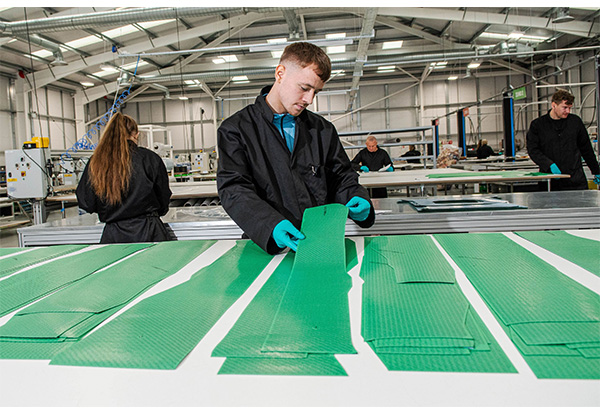 Seneca Partners has committed further capital of £1.5m to leading aerospace composites manufacturer Velocity Composites as part of a successful £6.6m funding round.
This latest investment will enable the company to accelerate its growth in the UK and overseas following the opening of its plant in Alabama, US, to add to its sites in Burnley and Fareham in the UK.
Seneca is an existing shareholder in AIM-quoted Velocity through its £50m EIS Fund and this additional £1.5m of funding has been provided through a combination of its Enterprise Investment Scheme (EIS) and Venture Capital Trust (VCT) funds under management.
Andy Beaden, Chairman of Velocity Composites, added: "We are delighted Seneca have backed us again as we continue to grow. Their industry knowledge and reputation as a leading growth capital investor has excited us about having them on board for the next leg of our journey."
Seneca's Siobhan Pycroft said: "This investment into Velocity Composites is an exciting and exceptional opportunity for our investors to back market-leading aerospace industry experts here in the North West who have developed a global brand and rapidly growing business across the UK, US and Europe.
"This transaction is a great example of what our EIS and VCT funds can be used for and our continued support demonstrates the progress the business has made. We are thrilled to be a part of their long-term growth strategy and look forward to the next stage of the journey."
The proceeds of the fundraise will support Velocity to scale the business, create further fund working capital requirements as well as make further investment in people, mainly based in their Burnley facility through key appointments in engineering, software and business development.
Velocity Composites manufactures advanced carbon fibre and ancillary material kits for use in the aerospace and associated industries from its sites in the UK and the US.
The company uses its process knowledge, business processes and proprietary software to reduce the amount of material required by its customers and also reduce the associated material waste when making aircraft parts.
Seneca Partners is an award-winning specialist SME investment business and the founding member of a network of companies which operate across the North of England employing over 50 people with offices in Manchester and Haydock. Seneca manages over £170 million in property and tax-advantaged investment funds. As an experienced growth capital investor, Seneca has raised and deployed over £115 million of EIS and VCT funds into over 70 SMEs since it undertook its first EIS investment in 2012.